The flight was okay and my boyfriend picked me up.

All is well, just trying to unpack.

I lost a total of 10 lbs thanks to France.
I had a great time. Not sure if this is going to be my last entry.

Thanks for the great time, France.


Katrina
I'm back home in Highland, Indiana.
Current Location:

home

Current Mood:

awake


i'm in london now. i slept the whole flight from paris to london. my sinus infection is having one hell of a time here and i have a nervous stomach. i have a few hour layover then i'll finally be home. i'm scared to see what's new at home ha...

can i go back to paris now?
so i left for charles de gaulle airport at 4:30 am. we took a cab (some girls and i shared it). some of the streets were blocked off by police so we couldn't get to the airport an easy way, which means it costed more $$ (90 freaking euro). Also, my cab driver got pulled over for driving like a freaking lunatic. i wanted to yell at him but i hadn't slept in at least 24 hours. he only spoke french too.
Current Location:

London

Current Mood:

restless
i'm screwed. my baggage is way over the weight limit. i'm deciding what to do.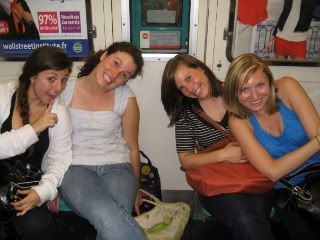 I seriously SERIOUSLY can't believe that time has passed this fast. I think I've felt like every feeling that I can feel towards Paris in a span of 7 weeks. I loved it and I hated it, but in the end I learned to accept the differences between my culture and their culture and got along well after that. I also learned a lot about myself and that I really cherish certain things in my life. Without them, I'm not functional.
Anyways....
I took my finals today. I had my culture final from 12-2 and then my history final from 2:30-4:00. I thought the culture final was OK (not my best work), but my history final was SO HARD! I mean, it wasn't the subject matter... it was just that I didn't study well enough for it at all. I missed about half of the questions on the test I know for sure. When I went to go turn in my test, my teacher asked if I wanted to see my grade on my long paper that I wrote on the catacombes. I said sure and he showed me my grade on the french grading scale (out of 20). I got an 18 0r 17 (it's slipping my mind right now), and he said I got the best grade out of anyone and I was great at citing sources and it was interesting to read. I thought that was interesting because honestly my paper was the crappiest thing I ever made up in French ever. Whatever. So, that gives me mixed feelings about that class. BUT WHO CARES BECAUSE IT'S ALL DONE!! i'm officially done with school. tomorrow we have a little buffet-lunch thing in the court yard at school and then i'm going site seeing to places i haven't visited yet (like the arc de triumph.. kinda important to go haha).
I like my homestay so much better now that I'm alone until I leave to go back home. I feel like awesome that I can just sit in the living room (first time sitting in here) and just chill and write and watch french MTV. I think watching the TV here is my favorite part of being home alone because I looooooooove their commercials! They have the cutest cartoons and stuff. I wasn't allowed to watch TV here before they left haha! It's weird, I didn't really say "goodbye" to my host family... they just left like individually each day and I was so busy with school and sleeping that I did not have time to give a proper good bye. I am sad for that but at the same time I don't think we were that close anyway. We did some stuff together, but nothing to boast about. I think if I was ever in town again I would call them for dinner but that's all. However, I'm not planning on coming back here any time soon. I want to visit other countries before I ever come back here. I've had enough of Paris to last me a long time.
Tonight we went to go see Jim Morrison's grave @ Pere-Lachaise cemetery. It was very breathtaking for me because I love cemeteries, and this was the biggest one I have ever seen in my life! The tombs were so different and they were built up instead of just in the ground. There was a security guard by Jim Morrison's grave haha how funny. I got some cool pictures. For dinner, we went back to a fondue place that we went to in the beginning of the trip before we knew anyone. It was fun because this time I knew everyone (except one dude who is a friend of a friend) so we were all comfy and had a great time! Baby bottles with wine... one of my favorite past times in France. After that we got ice cream at a general store and went to my (EMPTY <3) house and talked for awhile. Everyone went home because they still have grammar finals tomorrow (--not me because i didn't take a grammar class!). I'm really tired though because I didn't sleep last night.
Like I said, finals are over. I have a day left in Paris to spend... and I am sad this trip is finally coming to an end. I really really had fun.

Current Location:

Paris

Current Mood:

jubilant

Current Music:

Fedo Mora & Camurri: After The Rain


Finals are today. Wish me luck.
My host family is officially gone, on a plane to Australia. I was in my bed and half way asleep when they knocked on my door to say goodbye. I don't even remember if I talked in English or French because I was so tired.
Current Location:

Paris

Current Mood:

lethargic
I saw death cab for cutie tonight.
A-M-A-Z-I-N-G!
One of my best nights here. Ever! I got the playlist from the band! Lauren and I were like the only people that spoke English besides the band! SO MUCH FUN!
Their music just makes me feel complete and an awesome person. HAHA.
OK GOOD NIGHT ITS SO LATE AND I HAVENT EVEN STARTED STUDYING FOR FINALS HAHA
i'm just going to bed :D
night
Current Location:

Paris

Current Mood:

awake

Current Music:

me sniffling [still]


Anyways, I have an A- in the History of Paris. Even if I flunk the final, I think I still pass either way. Not that I'm going to the flunk the final! I have a plan of action!

I came home early right? Well, the minute I walked in, my host mom was like wait I need to talk to you before I went straight to my room. She's like you don't look so good and then she's like I bought you a present. I was like whaaaaaaa? A present? why??... but she handed me over a tote bag she bought me. It's pink and it has the eiffel tower on it and it says Paris! I LOVE IT! I wanted one (but in black but I'll take pink anyday!) and I'm so glad I didn't have to buy one. There's even a pocket for change and stuff and it zips up. I'm pretty excited about it I gave her the little french kiss kiss for thank you or whatever. I figured it was the right thing to do and she went with it too! She also asked for a picture of me and I gave her one I brought of me and Sam. So Sam.. you're now hanging up on the wall of host students in her hallway. Hehe.

I'm feeling better, I just used the nasal spray and took a hot shower. Now I'm gonna do my makeup and my hair and hopefully get to the concert at a decent time and meet Lauren there. I feel all weird because I'm on a drowsy medicine. Espresso kept me up during lecture, however. Thank god for French espresso and thank god I have a French espresso machine waiting at home for me. It's not even bad for you either!

Mk that is all for now darlings.
I came home early from class. We had a visit today but I just told my teacher I was sick, he said that I should come but I'm sick so uh well nothing he can do. So I just left and went home. I wanted to get some rest in before this big concert tonight (haha backward logic huh?). I know.
Current Location:

Paris

Current Mood:

blah

Current Music:

Death Cab for Cutie-I will possess your heart
I started getting this head-cold thing on Saturday. I knew it was going to turn out bad the moment I got it. I kind of still wanted to go out and have fun none-the-less. Every day that I woke up since Saturday has been worse. I have a lot of sinus pressure, I can't sleep well, I can't breathe, it is weird to eat because I can't breathe.
Anyways, I knew when I woke up this morning that I had to do something about it. I have finals on Wednesday and I have to take a long plane ride home on Friday. The last thing I wanted was to be sick. So, I asked the people that work at my school where to go and they gave me directions. The doctor's place was more just like a house with some chairs. It's what I envisioned an abortion clinic to look like -- not so clean but still homey. I just sat on the chairs nervously, wanting the doctor to come get me. There was a pregnant lady and some old people that were there before me. There was no secretary, which I found odd. The doctor finally came out to get me after like 45 minutes of waiting, and he [Dr. Parents] shook my hand and said Bonjour. I was under the impression that he was an English doctor, but I guess that was another doctor that they were talking about. I had to talk all in French but that's okay.
He told me I have a sinus infection and an eardrum infection
. He kept asking me if I had pain in my ears and I said no. He said it was really inflamed and it would have like ruptured if I had taken a plane in 4 days. Anyways, he wrote me a prescription for the French version of "amoxicilline" and a nasal spray "actisoufre." Also, He wrote me a prescription for "rhinureflex" which is like nose, throat, and ear pain killer. I have to take the amoxicilline 2x for 6 days. I can take Rhinureflex whenever I feel pain. I do the nasal spray 4 x a day (yeah right..). It was a neato experience. At the pharmacy, the ladies were nice. I came back to school and filled out my insurance form, and I'm suposta get all reimbursed for the medicine and the doctor visit. In all it was like 50 euro, including medicine.
I still have class today and I'm going to a concert tonight. I want to skip one of my classes so that I would have time to get ready for the concert. I might. Death cab for cutie is who I'm seeing tonight with Lauren. It's going to be interesting getting there because I have no clue haha. I might take a cab. a death cab? haha. okay. i'm gonna go try to go home and stuff. i'll be back later.
Current Location:

Paris

Current Mood:

sick
Before I left for college, my friends and I all had a "last dinner." The version of this in Paris is what I'm now calling "the last picnic" because every sunday that we were in paris, we usually picnicked at the eiffel tower. Today was our last time doing that and I'm super sad. It was one of my favorite things to do here.
http://www.time.com/time/world/article/0,8599,1820358,00.html?cnn=yes
read this.
Current Location:

Paris

Current Mood:

calm
Nice
Nice was amazing. I loved Nice so much more than Paris. I went there last weekend on Friday morning taking the TGV train (which is like the bullet train). 8 girls went in total. Riley and I went to the trainstation together and we were super late but we still got there on time. It was about a 5.5 hour train ride from Paris to Nice, and it went along the coast for a few hours so we got to see what Marseilles and Cannes looked like before we even got to Nice. It was pretty beautiful. The people in Nice were so much more friendly than that in Paris, and we got better service at restaurants (except one ice cream place!). There were a lot of mixed people in the south of France, most of which were italian and french and greek. I liked the more itialian-french people. They don't take themselves as seriously as Parisians do.
We got there on Friday afternoon around 4ish. We walked from the train station to our hostel, nearby.
The hotel we stayed at was a hostel and it was reasonably priced.
It's called Baccarat Hotel -- the only bad part was it was in a TERRIBLE neighborhood. However, there were tons of kids staying there that were our age. I thought we got a good deal for how much we paid, but the bathroom was just dirty and stuff.
It was my first hostel experience, and I liked it. It was about a 20 minute walk to the beach, so that was a killer too.
After we unpacked on Friday, we went straight to the beach with some girls. Other girls went to Monnoco to go see what it looked like because it was so nearby. I just wanted to bake and enjoy the beaches. The cool but not so cool thing about Nice's beaches is that there are rocks instead of sand. It's huge rocks so it's hard to walk on at times and very uncomfy. However, they're awesome to lay on. It was like a hot stone massage after awhile. The sea was amazing and cold and it felt good when you were baking in the sun. We went out to eat at this place called Queenie on Friday night and we had a swedish waiter. It was interesting. Then we went to some clubs and I had a few drinks. Then we went home and I was so tired I just stayed sleeping and didn't wake up the next morning to go to the beach early. Riley, Alice, and I all slept in till 11 (we had a 6 person room with bunk beds so all of us girls got to stay together). Then Alice and I went shopping and then we visited the mountain on a cute little train and got to see a waterfall. After that, Alice and I went to the beach for a little. Then we went back to the Hostel to take showers then we went out to eat at this really nice restaurant called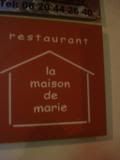 . We had the best service EVER! It was fun. Then after that we walked around the boardwalk (Promenade D'anglais) for a little bit then we went back to our hostel to go to bed. The next morning Riley, Lauren, and I went to a private beach and we rented private chairs. We layed out all day long and then we went back to the hostel, jumped on our train (that was 2 hours late) and trekked back to Paris for 5 hours. We got back at 2am and we had to take a taxi. It was a lot of money but we're suposta get reimbursed by our train people because it's their fault they were late. So that was nice, and I WANT TO GO BACK like so bad. I loved it there!!! Seriously was one of my favorite experiences here. I overslept my class the next morning but whatever, it was so fun!
(
Some pictures from my nice trip...
Collapse
)
The rest are here:
http://s282.photobucket.com/albums/kk249/oh_french_toast/Nice/
School
School is wrapping up now. We kind of have been having a problem with our History of Paris teacher because he goes too quickly for us and he bounces around on topic and makes fun of us with our American accents. One of the students told the head of the program this was going on, so we all got talked to and he got yelled at. He's no longer such a meany, but he also said we all have A's so he doesn't know what our problem is. My finals are on Wednesday Culture (10-12) History (12-2). Thursday (tim's birthday!!) is a big party at my school for our going away party. I'm scared about finals to be honest, i Have no clue what to expect. I want to start studying tomorrow.
Food
I am starting to make an album of only food pictures in Paris, wish I would have taken more pictures of my food. See here for pictures:
http://s282.photobucket.com/albums/kk249/oh_french_toast/French%20Food/
Host family
My host family has really been busy because they're in charge of World Youth Days in Australia (
http://www.wydtours.com/
) this year. Because of this, my whole entire family will be leaving by Tuesday to go to Australia. I leave on Friday so I will be here alone before I leave. Their daughter (Valerie, who is 29 and lives in apartment on the other side of Paris) will be checking on me before bed. It's going to be fun because I can pretend the whole appartment is mine and watch tv and stuff. I'm pretty excited for my last few days here. They gave me a bottle of grand marnier to give to my grandma because my host dad works for grand marnier. We drank some together the other night, it was pretty interesting. I'd have to say my favorite drink I've drank with them was champagne though. You know it had to be in the hundreds....because it was amazing! Today, my host mom and brothers took me to a French cafe. It's so ODD because we had awesome service (A NEVER IN PARIS)... but it's because they spoke French. They even ordered for me haha... I got a Parisian salade.. It was one of my favorite things I've ate in Paris!! It was just a salad with a bunch of cheese and ham and mayo and eggs and a tiny tiny layer of lettuce. YUM!
Riley
Riley is like my BFF in France. LOL... anyways she has her own blog and she talks about Paris and stuff. I think it would be interesting if you read her blog too :D
http://www.labelleviederiley.blogspot.com/
K!
Well, like 5 more days or so until I'm home. I'll miss a lot of things here but I also miss a lot of things from home.
<3 Katrina
Current Music:

Lasgo-Something